UMSL aims to promote cultural awareness, foster leadership development in four-part workforce training webinar series beginning Sept. 16 – UMSL Daily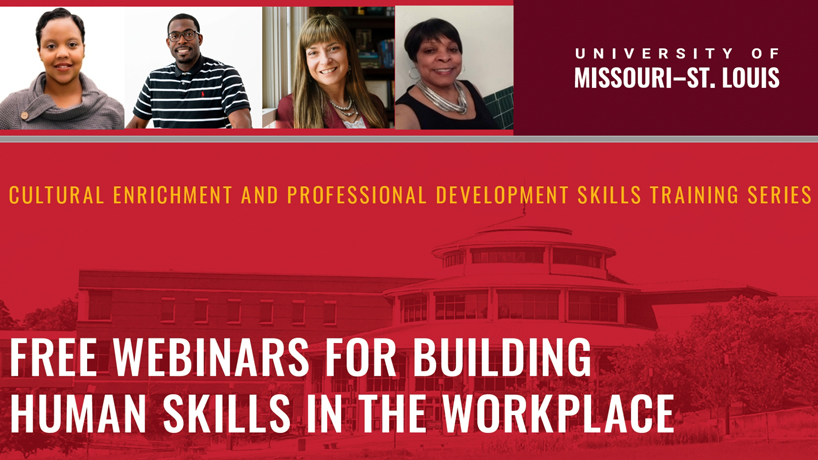 The Advanced Workforce Center at the University of Missouri–St. Louis is launching a Cultural Enrichment and Professional Development Skills Training Series in September and October.
The four-part series of virtual educational workshops is designed to promote cultural awareness, foster inclusivity, build workforce collaboration and resilience, and enhance leadership development. It was made possible through a grant from the Missouri Scholarship & Loan Foundation.
"This webinar series provides best practices and coaching on essential skills for success at work, including those who are job seeking and those looking to grow in their careers," said Reggie Hill, UMSL's vice chancellor for strategic enrollment and career advancement.
Burnea Lester, the director of communication and community relations at SITE Improvement Association, will kick off the series with webinar on "Developing Cross-Cultural Intelligence" from 10:30 a.m.-noon on Saturday, Sept. 16. It will serve as a conversation defining culture, risks related to culture, real-world examples of cross-cultural conflict and best practices for communicating through cross-cultural dialogue.
The series will continue from 5:30-7 p.m. on Thursday, Sept. 28, when Myron Burr, the coordinator for diversity, equity and inclusion initiatives at UMSL, leads a webinar on "Inclusive Workplace Practices." He will discuss the importance of building community, celebrating and embracing differences, creating inclusive spaces, being our authentic selves and supporting inclusion for all in the workplace.
Mara Woody, the senior manager for strategic partnerships at Riipen, will lead the third installment of the series from 10:30 a.m.-noon on Saturday, Oct. 14. Her presentation "Collaboration and Resilience in the Workplace" will include a discussion of the difficulties associated with developing resilience, conquering personal adversity, mental health's role in enhancing resiliency, and building collective resilience in the workplace.
The series concludes with a webinar on "Leadership Development" from 5:30-7 p.m. on Thursday, Oct. 26. Clara McCalla, a senior corporate trainer and motivational speaker, will lead a presentation and share information on redefining leadership through inclusion, leading change through agility and resilience, and initiating constructive conversation through cultural barriers.
Advanced registration is required for each of the workshops. To register, visit
While the webinar series is open to all who wish to attend, those who are unemployed, justice-involved, GED or HiSET holders, or veterans are strongly encouraged to register.

Short URL:

link