T.N. CM Stalin inaugurates Hitachi Energy's biggest Global Technology and Innovation Centre in Chennai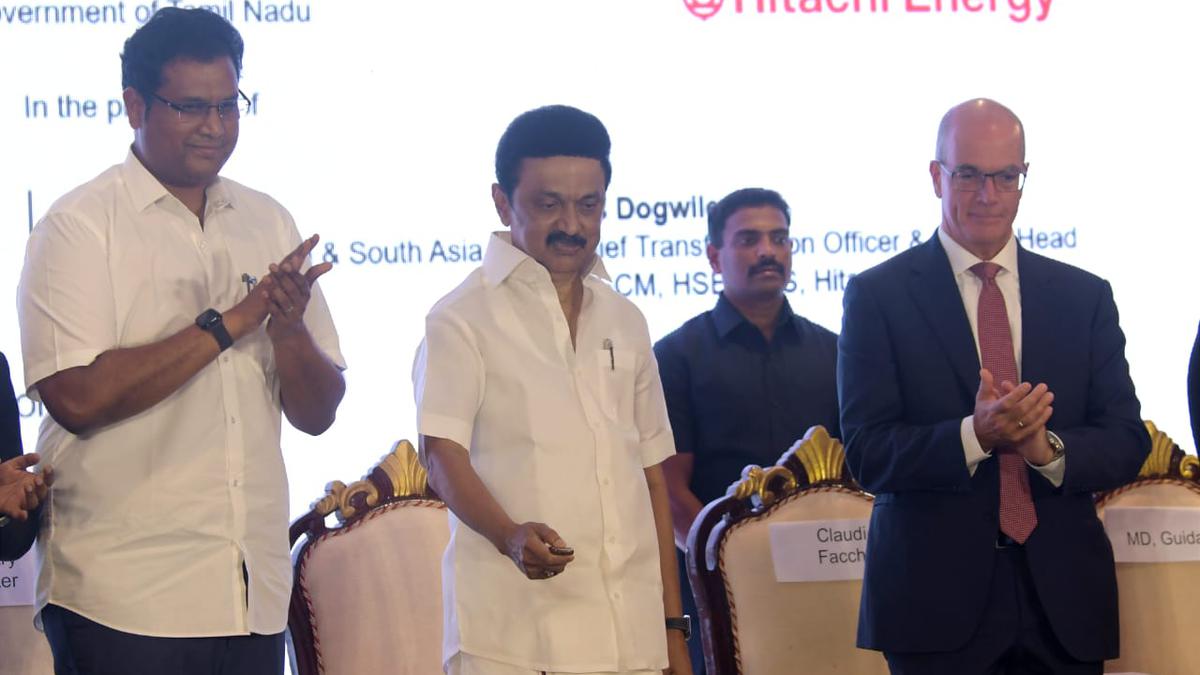 Tamil Nadu Chief Minister M.K. Stalin on Thursday inaugurated Hitachi Energy's largest Global Technology and Innovation Centre in Chennai.
Located at the Commerzone IT Park on Mount Ponnamallee Road in Porur, the Centre is spread over 3,00,000 square feet with nearly 50,000 square feet of dedicated lab space.
The facility will house over 2,500 energy transition technologists with post-doctorate and postgraduate degrees, specialising in grid automation, transformers, high-voltage and grid integration. The Centre is equipped to execute over 1,000 projects a year across 40 countries in the world.
"Such world-class innovation and technology centres coming up in Tamil Nadu reflect the quality of our local talent and will further boost the State's vision of becoming a trillion-dollar economy by 2030," Mr. Stalin said. Hitachi Energy launched its energy generation unit in Tamil Nadu in February this year, and Thursday's function is its continuation, he said.
Tamil Nadu is the second-largest economy in India, and leads on several parameters of industrial growth. "We not only aspire to sustain this, but to grow further, we are taking all efforts possible to attract investments on a large scale," Mr. Stalin said. To attract investments into the State, we are creating sector-specific parks with world-class infrastructure, he said.
Mr. Stalin said the State has unveiled sector-specific policies and schemes including the Research and Development Policy, as well as policies for industrial parks, innovation hubs and skill development centres.
"Since we unveilved the Tamil Nadu Research and Development Policy, 2022, in July last year, there has been a drastic increase in the number of research and development, innovation, startups and global capability centres opening up in the State, resulting in the creation of tremendous opportunities for industrialists, academicians, and startups," he said.
Over the past two years, more than 30 Global Capability Centres (GCC) and Research and Development Centres have either opened new facilities or expanded their existing operations in the State, Mr. Stalin said.
"We will be hosting the Global Investors Meet in January, with companies like Hitachi, and I hope that you will be able to bring similar Japanese companies to participate in the summit," he said.
Strategic investment
"This Center in Chennai is a strategic investment that accelerates innovation, digitalisation, and engineering capabilities to support our customers in advancing the world's energy systems to be more sustainable, flexible and secure. It further reinforces our commitment in India as a critical hub, ready to take the challenges of the transformation of the future global energy system through electrification," Claudio Facchin, CEO of Hitachi Energy, said.
Tamil Nadu is emerging as a vibrant knowledge hub and is one of the most sought-after places globally for research and innovation. "The Hitachi Energy Global Technology and Innovation Centre reflects our rich talent pool and R&D ecosystem," said Tamil Nadu Industries Minister T.R.B. Rajaa. He also said the State is working on a policy for energy storage.
"The urgency of the energy transition is reflected in our rapidly expanding talent base in the country. The Chennai Center is set to increase its headcount by 20% by the end of 2024," N. Venu, MD and CEO, India and South Asia, Hitachi Energy, said.
Tamil Nadu accounts for 15% of doctorates and 11% of postgraduates, according to a report by Federation of Indian Chamber of Commerce and Industry.
link