Provost Fellows announced for 2023-24 SEC Academic Leadership Development Program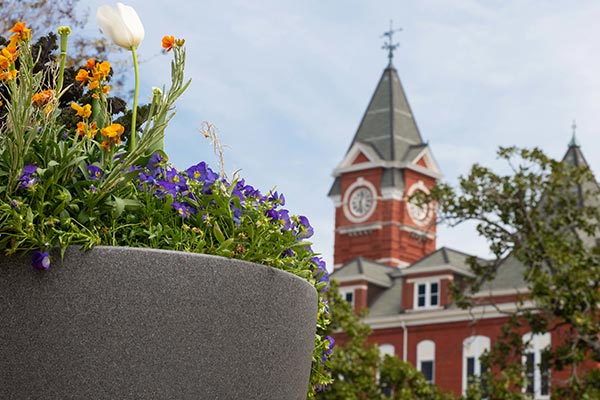 Four Auburn University faculty members have been selected for the 2023-2024 SEC Academic Leadership Development Program.
• Robert Boyd, assistant provost for Institutional Effectiveness and professor in the Department of Biological Sciences
• Virginia A. Davis, Daniel F. and Josephine Breeden professor in the Department of Chemical Engineering
• Latif Kalin, professor and the Promotion and Tenure Committee chair of the College of Forestry, Wildlife and Environment
• Karen S. McNeal, Marguerite Scharnagle Endowed professor in the Department of Geosciences
"Auburn University is proud of these four outstanding faculty members and congratulate them on their accomplishments," said Vini Nathan, provost and senior vice president for Academic Affairs. "Their impact as instructors, researchers and scholars contributes significantly to advance the university's mission now and into the future."
The SEC Academic Leadership Development Program seeks to identify, prepare and advance academic leaders for roles within SEC institutions and beyond. It has three components: a university-level development program designed by each institution for its own participants; two SEC-wide three-day workshops held on specified campuses for all program participants; and a competitive fellowship designed to provide administrative growth opportunities for former fellows.
Robert (Bob) Boyd is a professor in the Department of Biological Sciences. A California native, he received his Ph.D. in Botany from UC Davis in 1986, and in fall 1988 became assistant professor in the Botany and Microbiology Department at Auburn. Boyd became professor in 2000, the department's undergraduate program officer in 2013 and served as interim chair for fall 2015. Boyd has taught courses ranging from freshman introductory biology to graduate-level classes. In July 2019 he was named associate dean for Academic Affairs in the College of Sciences and Mathematics, and in January 2023 he became Auburn's first assistant provost for Institutional Effectiveness. In this role he supports the development of evidence-based assessment practices and strategic planning efforts designed to enhance the institution's operations. As leader of the Offices of Academic Insight, Information Technology and Institutional Research, he oversees the university's accreditation, academic program review and data governance processes. His research interests include the management of rare and endangered plants, as well as the ecology and evolution of metal hyperaccumulator plants. He has published over 100 journal articles/book chapters, has been a guest editor for special issues of three scientific journals, and has served on the editorial boards of three additional scientific journals.
Virginia A. Davis is the Daniel F. and Josephine Breeden professor in the Department of Chemical Engineering. Her leadership experience has focused on bringing together people from different organizations and units to create opportunities and accomplish common goals. As a Governor appointee to the recently formed Alabama STEM Council, Davis led the working group focused on developing a strategy for identifying and scaling up informal STEM learning initiatives. Her university roles have included serving as a graduate program officer and as the faculty liaison to the alumni organization focused on recruiting, retaining and rewarding women in engineering. Davis earned her Ph.D. in chemical and biomolecular engineering from Rice University. Her research creates functional materials with unique properties from nanomaterial dispersions and polymers. She also leads research and workforce development efforts focused on understanding and facilitating STEM identity formation. Her honors include a Presidential Early Career Award for Scientists and Engineers as well as professional society and university awards for research, outreach, mentorship and enhancing inclusivity.
Latif Kalin is currently the promotion and tenure committee chair of the College of Forestry, Wildlife and Environment. He is responsible for guiding the faculty going up for P&T, setting up the meetings, conducting the voting process and preparing and meeting summaries to the dean. Kalin has chaired and served on multiple faculty search committees. He was the chair of the Graduate Policies and Procedures Committee of the college between January 2020 to December 2022. The purpose of GPPC is to evaluate applicants for the graduate programs of the college and to make recommendations concerning their admission. In addition, it reviews the proposals for new graduate courses and processes the graduate awards. The committee also makes recommendations regarding changes in graduate polices within the college. Kalin was chair of the Information Technology Committee and a senator between 2014 to 2018 for the college. He served on multiple university committees: Competitive Research Grant Committee, Graduate Council, Computational Infrastructure Working Group, Council of Energy, Environment and Economic Research, Environmental Initiative Subcommittee, CHESS Cluster Advisory Committee and AU-HZAU Research and Scholarship Committee. He is on Auburn's International Advisory Council and is the assessment coordinator for GSEI program within the college. He was also associate director of the Center for Environmental Studies at the Urban-Rural Interface.
Karen S. McNeal is the College of Science and Mathematics' Marguerite Scharnagle endowed professor in the Department of Geosciences. She served as the associate department chair in Geology for four years, led the Discipline Based Education Research Initiative in the College of Sciences and Mathematics, and currently serves as a National Science Foundation program director in the Division of Graduate Education. As associate department chair, McNeal worked in a shared governance capacity in a variety of roles (e.g., Department's Advisory Committee lead, programmatic assessment of four-degree programs, member of the Dept/College/University Curriculum Committees, etc.). As lead of the DBER initiative, she helped to create a community of STEM education scholars and a robust DBER community. During her current role at NSF, she serves the NSF Research Traineeship and Innovations in Graduate Education Programs, which aim to advance and innovate STEM graduate education in the United States. She is the former PI of Alabama's first NRT program focused on climate resilience. McNeal has been the editor of research for the Journal of Geoscience Education, past president of the National Association of Geoscience Teacher's Geoscience Education Division and member of Auburn's AAUP's Executive Committee. McNeal conducts research in the field of geoscience education where she focuses her research on climate change communication and co-production, earth systems thinking, evidence-based learning approaches and broadening participation in STEM. She has been funded by numerous external funding agencies with over $25 million secured and more than 70 peer-reviewed publications.
link