JBLM Leadership Training Course setting the bar for excellence | Article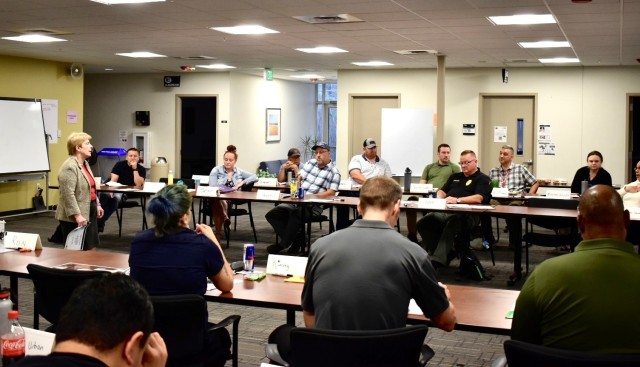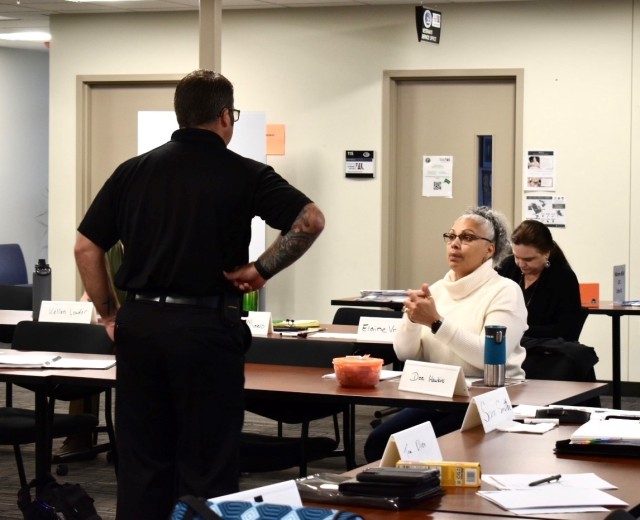 JOINT BASE LEWIS-McCHORD, Wash. – Garrison supervisors at Joint Base Lewis-McChord are taking part in a newly created leadership development course that promises to set them and their teams up for success.
A group of 30 Department of the Army civilian supervisors recently became the second cohort to complete five days of instruction at the Crittenberger Conference Center at JBLM to enhance their skills as team leaders.
"This class is intended not to simply provide them with the tools to be a supervisor, but to explain how to use the tools they already possess to become better supervisors," said Deborah Starr-Calhoun, JBLM workforce development program specialist.
During the course, supervisors received guidance on ways to empower their subordinates and foster positive service culture practices within their team, while in turn growing their own communication and leadership skillsets.
Dee Hawkins, with the Army Emergency Relief program, is a new supervisor in her department and she said she found the information incredibly helpful.
"I am not normally a note-taker, but I have pages of notes that I've been keeping this week," Hawkins said. "For me being new to the supervisor role, this is all relevant information to me and it's all great."
According to Starr-Calhoun, the program was implemented early 2023 out of a developing need JBLM Garrison leaders saw within its Department of the Army civilian ranks.
"We had other training programs in place, but we were seeing significant and increasing gaps form between the way a program or information was intended and the way it was actually being implemented in our workforce," Starr-Calhoun said.
Developing a leadership training course was something Starr-Calhoun had started working on with the former garrison chief of staff, and then continued with David Fullmer when he took over the role in 2021.
To develop the program, Starr-Calhoun compiled a team of individuals representing every major directorate at JBLM to serve as a focus group for the type of training that could be most beneficial. She also reached out to other installations to see what programs they were using, but she said she couldn't find a program that matched what garrison leaders had in mind. In the end, the JBLM Leadership Development Course Planning Team put together a new program tailor-made to suit the JBLM workforce.
"When Mr. Fullmer came on board, we ultimately decided to create a completely new leader development course that we would provide in person to every supervisor within the garrison, regardless of grade or tenure," she said.
The first training was held in April, and Starr-Calhoun said the results were an overwhelming success.
"It was nothing short of beautiful," she said. "Participants were building relationships and sharing work experiences with one another, and it was everything we had wanted to come from this course."
Carl Adametz, grounds supervisor with JBLM's Directorate of Public Works, has been a supervisor for 35 years and he said he believes several portions of the training are useful regardless of a supervisor's time in position.
"There is always room for improvement and growth," Adametz said. "And there are bits and pieces of information throughout this course that I think each of us here can take back with us and use."
As more supervisors complete the course, Starr-Calhoun said several have reached out to her asking for copies of the information presented so that they can refer back to it. And, she said, they are not the only ones.
"We have received requests from other installations who are asking to see our program so that they can offer something similar," Starr-Calhoun said.
Moving forward, the course will be provided once every quarter until all approximately 300 garrison supervisors have participated. Starr-Calhoun estimates that goal will be reached in early 2025. After that, she said she hopes to begin offering the course to supervisors outside of the garrison.
"This course offers a wealth of information that could benefit every supervisor at JBLM," Starr-Calhoun said.
link