Inclusivity and innovation key to Calgary's economic growth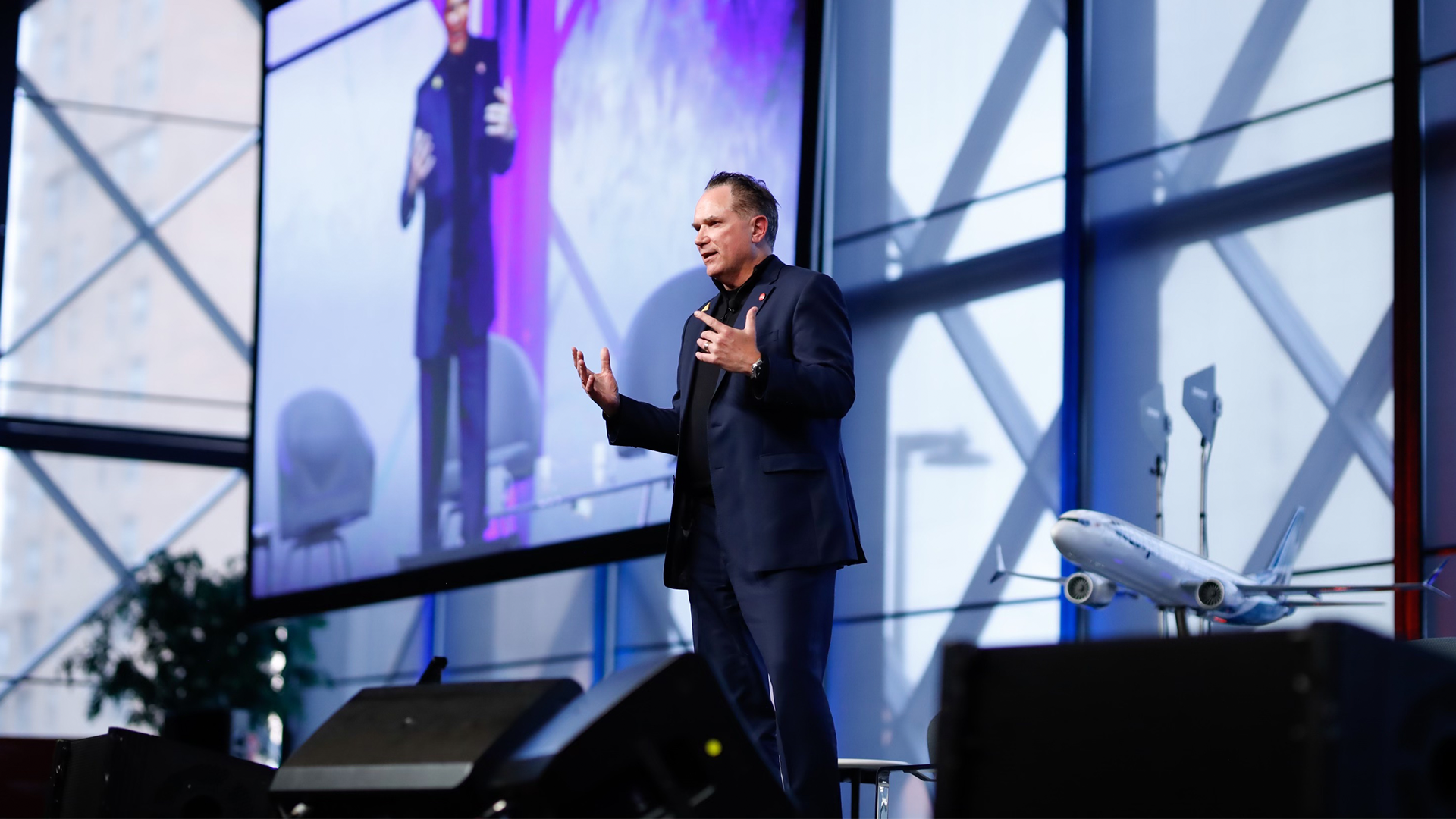 Calgary is the place where bright minds and big ideas come together with an unmatched spirit to help solve global challenges. The actions required to achieve this ambitious vision – as outlined in the city's economic strategy, Calgary in the New Economy – were explored through conversations at Calgary Economic Development's annual Report to the Community event, presented by WestJet.  
"Report to the Community has traditionally been about reflecting on the previous year – and we've had an incredible year – but this year is also about looking ahead," said Brad Parry, President and CEO, Calgary Economic Development and CEO, Opportunity Calgary Investment Fund.  
"It starts with a community that believes in itself, is intentional about listening to new, diverse voices and is future-focused while learning from our past." 
Pathways to prosperity
The importance of innovation and inclusivity for a future-proof city was a common thread throughout conversations with community, business and political leaders at the event. 
"When people see that Calgary is the place to be – when we get the economics right – investment follows," said Premier Danielle Smith. "We know that for this to continue, we have to continue to build the best business environment." 
Addressing office vacancies and improving downtown vibrancy is another priority for long-term economic success. 
"To encourage economic diversification and retain talent, our party aims to invest in downtown revitalization, affordable housing, public safety, re-introduce the digital media and entertainment tax credit and invest in post-secondary institutions," said Official Opposition Leader Rachel Notley on priorities for the New Democrat Party. 
"Our greatest resource is not underground, but the people walking on top of it." 
2022 highlights and inclusive economic growth 
Calgary Economic Development helped attract, expand or retain 61 companies – including 38 in film, TV and Digital Media and Entertainment – and over 10,000 jobs in 2022.  
"In the past year, our economic momentum was driven by our focus on cultivating a diversified, innovative, inclusive and sustainable economy," said Joe Lougheed, Board Chair, Calgary Economic Development. 
As stewards of the updated economic strategy that launched in 2022, Calgary Economic Development works towards building an economy that creates opportunities for all through a targeted focus on five connected economic drivers – Talent, Innovation, Livability, Business and Environment and Brand. 
Perceptions research conducted for Calgary Economic Development across 10 markets in Canada, the United States and the United Kingdom this past year revealed more leaders and talent see Calgary as a city of opportunity.  
"If you are truly serious about solving global challenges, there's no better place to do this than Calgary," said Parry.  
Ninety per cent of business leaders have a positive perception of Calgary and almost 75 per cent say Calgary is quickly becoming a new hub for tech and innovation. 
Visionaries from Calgary's business community 
For the fifth straight year, the city welcomed record-breaking venture capital investment, with $647 million invested through 64 deals. This marks an increase of 29.4 per cent in dollars, up from $500 million in 2021.  
Included in this total is the fund raise of one of OCIF's first recipients, Attabotics, which closed its $71.7 million in Series C funding this past November. 
"We're the second OCIF recipient and grew from 22 people to over 300. My job is to deliver on the support that it was intended for, build skilled jobs, develop IT, and build on the opportunity to be a part of the flywheel effect and help spin out more startups," said Scott Gravell, Founder and Chief Executive Officer, Attabotics, and speaker on the Report to the Community business panel.  
"We need to realize all the support, talent and resources required are here, and the time is right to build globally-dominating companies in Calgary. I fully believe I can do that here." 
Set to celebrate its fifth anniversary this year, OCIF is a catalyst for innovation and one of the city's most powerful tools to achieve the economic strategy.  
"OCIF has been a foundational element of growth in Calgary's innovation ecosystem," said Michael Brown, Board Chair, Opportunity Calgary Investment Fund. "As we look ahead to the next five years, we are committed to build upon that strong foundation to help Calgary seize opportunities for growth, despite changing economic conditions." 
To position Calgary for long-term prosperity for all, building a competitive business environment is a driver in the economic strategy. 
"OCIF stepped up and was one of our first funders to help us catalyze further investment from the community", said Salima Shivji, Director of Movement51, which was an OCIF recipient in 2021. 
With its portfolio of 25 investments, OCIF is forecast to spur more than $900 million in economic activity – over 11 times the return on funding committed. 
Whether it's in energy, aerospace, agribusiness, creative industries, life sciences or transportation and logistics, Calgary has the right to win across sectors with innovation fueling momentum in recent years.  
"People challenge us to collaborate in Calgary. We are in an unprecedented time where we are collaborating to an unprecedented level through the Pathways Alliance to plan and implement a pathway to net zero," said Arlene Strom, Chief Sustainability Officer, Suncor.  
A Calgary Economic Development study estimates Calgary companies will spend $7.5 billion in digital transformation between 2021 and 2024, and the Alberta Energy Transition study said a net-zero pathway in the province could produce $61 billion in economic activity by 2050.  
"Calgary is positioned to be an example to the energy industry globally to reduce our carbon footprint to be competitive over the long term and provide carbon abated energy," said Strom. 
Embracing innovation for social good
As companies compete globally for skilled talent, attraction and retention is a priority for cities everywhere.  
Like many Calgary companies, Calgary Economic Development and OCIF supports talent development initiatives to include and grow diverse perspectives. In fact, the community's commitment to Equity, Diversity, Inclusion and Accessibility (EDIA) and Indigenous Reconciliation is embedded in the economic strategy.  
"EDIA is a journey. We wake up every day as community builders to amplify voices and make sure we take actions that make life better for all Calgarians," said Lourdes Juan, Co-Founder and CEO, Fresh Routes.  
The community panel spoke of the importance of building a community where everyone feels like they belong.  
"Being a community builder is my lived experience. When you're a woman of colour, a mom, and an immigrant you have people who lift you up. When you grow from these experiences you have the desire to help people with the same experiences to make their experience easier," said Chi Iliya-Ndule, corporate commercial lawyer at Blake, Cassels and Graydon LLP, and a Co-Founder and the President of Calgary Black Chambers. 
Vibrant communities are built on the diversity of bright minds and big ideas. 
"Business owners need to listen. The more caring and flexible you are to your team, the more employees will care about their roles and be flexible to you. Change is coming and inevitable so you may as well get with it," reflected Holly Singer, Founder and CEO, Milk Jar Candle Co., with insights from her team.  
Thank you to presenting sponsor, WestJet, along with TELUS Business, Calgary Arts Development, Postmedia Solutions, Alberta Blue Cross, Calgary Co-op, Haworth, Mount Royal University and the University of Calgary for your support.  
"It's no surprise that Calgary is one of the world's most livable cities because the businesses represented in this room make our community and city better every single day," said Angela Avery, K.C., Executive Vice President, Chief People, Corporate & Sustainability Officer of the presenting sponsor for Report to the Community, WestJet. 
By creating and championing opportunities for all, we will build a future-proof, sustainable economy for Calgary. 
For more information on 2022 economic highlights, visit our Annual Reports page. Visit CalgaryInTheNewEconomy.com to read the economic strategy.    
A link to the Report to the Community recording will be made available in the coming days. 
link