DVIDS – News – SECNAV Addresses Leadership Development, Culture of Belonging at ANSO Eastern Regional Symposium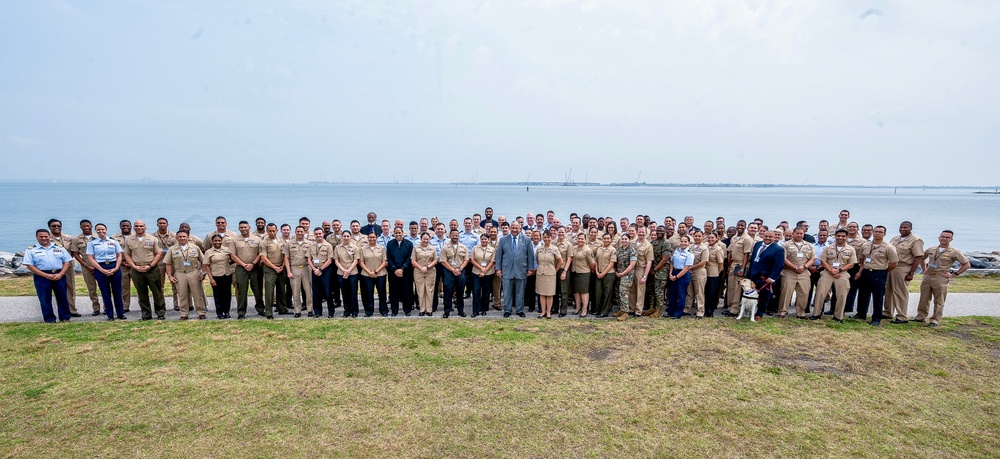 Secretary Carlos Del Toro stressed the importance of leadership development at all levels of service and fostering a culture of belonging to deliver forces capable of winning against any adversary at the 2023 Association of Naval Services Officers (ANSO) Eastern Regional Symposium.
Secretary Del Toro spoke on the final day of the three-day symposium, held at the Vista Point Catering & Conferencing Center, June 8. The theme of this year's symposium is "Leadership Development from Intention to Impact."
"Continued efforts to foster a culture of belonging are critical to our Navy and Marine Corps team," said Del Toro. "Diversity within our workforce is a strength, and we will continue to work toward building a culture of mutual respect and inclusion to attract, retain, and develop the best and brightest that our Nation has to offer."
Secretary Del Toro is a lifetime member of ANSO and a former member of the ANSO National Board of Advisors. While on active duty, he became a founding member of the ANSO Chapter in Washington DC.
Born from recommendations provided at the Hispanic Officer Recruitment Conference (HORC), ANSO was officially established in 1981 by the late Edward Hidalgo, a Mexican immigrant, trained lawyer, and intelligence officer during World War II. Hidalgo served as the first Secretary of the Navy of Hispanic descent under the Carter administration.
Lt. Cmdr. Rolando Machado Jr., ANSO's National Executive Vice President, appreciates the connections and legacy between Secretaries Hildago and Del Toro, particularly their efforts to "pay it forward" as it relates to mentorship and professional development.
"SECNAV Del Toro's personal engagement and involvement gives me hope that our efforts within sea service affinity groups is valuable to our Sea Service Chiefs' efforts to create inclusive leaders and improve our overall warfighting readiness," said Machado, who is a 2009 Naval Academy graduate and has been mentored by Del Toro since he was a midshipman.
Retired Navy Captain Roy Love, ANSO's National President, agrees.
"The impact you get from seeing someone who looks like you and from the same background as you helps you see yourself in the future of the workforce," said Love.
Born in Havana, Cuba, Secretary Del Toro immigrated to the U.S. with his family as refugees in 1962. Raised in the Hell's Kitchen neighborhood of New York City, he attended public schools and received an appointment to the United States Naval Academy, where he earned a Bachelor of Science Degree in Electrical Engineering, and was commissioned as a Surface Warfare Officer upon graduation in 1983.
His 22-year naval career included a series of critical appointments and numerous tours of duty at sea. He was sworn in as the 78th Secretary of the Navy August 9, 2021. As Secretary, he is responsible for over 1 million Sailors, Marines, reservists, and civilian personnel and an annual budget exceeding $255 billion. His priorities include securing the training and equipment successful naval operations demand and addressing the most pressing challenges confronting the U.S. Navy and Marine Corps by strengthening maritime dominance, building a culture of warfighting excellence, and enhancing strategic partnerships.
"Certainly, I hope my own story can serve to encourage others who may not see themselves represented as often in the highest ranks of government service," said Secretary Del Toro.
ANSO is a 501c3 nonprofit recognized as the Hispanic/Latino Leader Resource Group (LRG) for the Navy, Marines and Coast Guard, supporting the Sea Service Chiefs in the recruitment, retention and promotion of Hispanics and Latinos across all ranks of civilian and sea service members.
| | |
| --- | --- |
| Date Taken: | 06.08.2023 |
| Date Posted: | 06.08.2023 16:28 |
| Story ID: | 446539 |
| Location: | US |
---
| | |
| --- | --- |
| Web Views: | 270 |
| Downloads: | 0 |
---

PUBLIC DOMAIN  


This work, SECNAV Addresses Leadership Development, Culture of Belonging at ANSO Eastern Regional Symposium, must comply with the restrictions shown on

link