College Corps Humboldt Prepares Students for Leadership Development | Humboldt NOW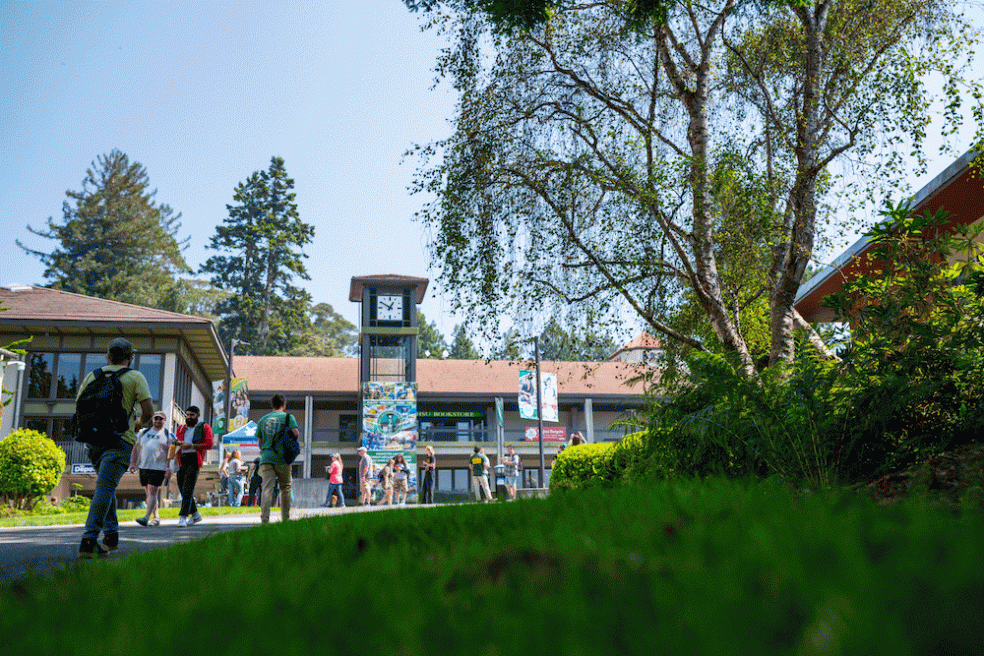 Through service activities and leadership development, College Corps seeks to foster a new generation of civic-minded leaders who can help bridge divides, solve problems, and address pressing social issues to build stronger and more equitable communities across California. In addition, the program provides financial support to low and middle-income students, helping to reduce their debt burden and making it easier for them to graduate confidently and without debt. 
"This program helps students to pay for college. But it doesn't only do that. College Corps allows students to practice service leadership in our local community and support and uplift local nonprofits. It's a win-win-win: good for the students, the campus, and the community," says Sara Hart, College Corps principal investigator and program leader of the Religious Studies department.
In January 2022, the state awarded Cal Poly Humboldt $3.3 million to support approximately 100 students yearly for their community projects and community partners that host students through the 2025-2026 academic year. Since the announcement, Humboldt partnered with Founders Mark, an organization that provides career training for young adults, to develop a custom curriculum in service leadership for College Corps fellows. As part of their curriculum, the fellows collaborate with their local nonprofit community partners to identify a challenge faced by those community partners and to develop potential solutions as their final project.
This year's College Corps community partners include Access Humboldt, Arcata House Partnership, Arcata Veterans Hall, Big Brothers Big Sisters of the North Coast, Clarke Historical Museum, Coastal Grove Charter School, CR (Hoopa Higher Ed), Creative Sanctuary, DNATL Community Food Council, Eureka City Schools, Food For People, Friends of the Dunes, Fuente Nueva Charter School, HCOE (Cal-SOAP), North Coast Growers' Association, Northern Humboldt Union High School District, Queer Humboldt, Redwood Community Action Agency, Salvation Army Silvercrest Residences, Trinidad Coastal Land Trust, Trinidad Union School, United Indian Health Services (Potawot), Westside Community Improvement Association, Wiyot Tribe, and Zero Waste Humboldt.
Next semester, College Corps Fellows will pitch their proposed solutions to a panel of national non-profit leaders in a shark-tank-style event. Successful pitches will be funded through Founders Mark, and the fellows, regardless of whether their pitches are funded or not, will spend the remainder of the academic year activating their ideas and solving the immediate problems that their community partners identified.
On the first weekend of March, the fellows will travel to San Francisco State University to attend the Mid-Year Leadership Conference with fellows from the Bay Area and the North State and College Corps leaders from the Governor's Office.
 
In addition to working with their community partners, College Corps fellows will partner with the University's three colleges to offer service-oriented programs. For instance, the College of Arts, Humanities & Social Science held an Art in Service series for Veterans Day. In May, the College of Professional Studies will host a Brain and Concussion Awareness event for local middle school youth to learn more about brain and brain injury and to participate in free baseline concussion testing by the North Coast Concussion Program in the Kinesiology Department. The College of Natural Resources and Sciences is currently working on its program.
"Our goal with these projects is largely on-campus outreach. College Corps is a new program. Partnering with the colleges on projects involving faculty and students— including College Corps fellows—is a way for us to get the word out about the program," Hart says.
link