Chongqing's National-level Development Area to Create An Innovation Ecosystem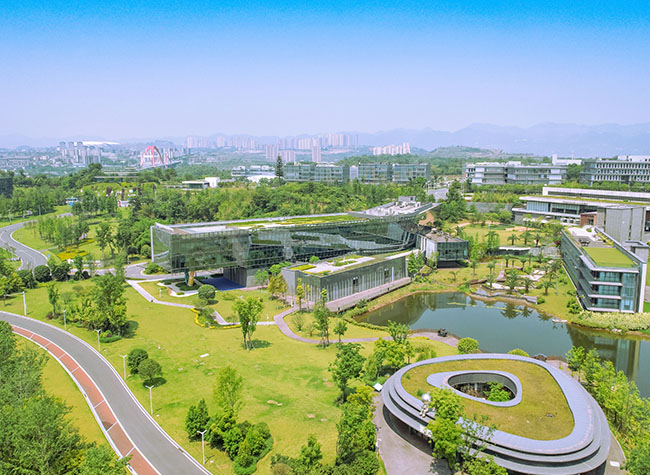 Chongqing – Aiming to build a cradle for scientific, technological, and industrial innovation, Liangjiang Collaborative Innovation Zone has grown into an epitome of Chongqing that mirrors its efforts to form an encouraging and resultful innovation ecosystem.
Chongqing holds a significant advantage in the manufacturing industry with a wide range of industrial categories, which provides enriched application scenarios and potential to grow for technologies, said Cheng Wendi, deputy secretary of the Party Working Committee of Liangjiang New Area. Chongqing's Liangjiang New Area is the first national-level development area in West China.
Housing universities and R&D institutes
Extending 30 square kilometers by the Mingyue Lake, the zone is home to 50 universities and research and development (R&D) institutes, over 140 R&D platforms, and five national postdoctoral research centers.
The solid industrial foundation convinced the Beijing Institute of Technology to set up its innovation center in the innovation zone four years ago. The auto industry, electronic information industry, and other pillar industries of Chongqing match our predominant disciplines at BIT, said Hu Shanqing, deputy director of the center. 
Hu added the innovation center plays a vital role in industrial collaboration, startup incubation, high-level talent attraction, and local talent nurture.
Last November, the center unveiled the world's first manned two-seat, intelligent, split-type car. It is an autonomous vertical take-off and landing aircraft with a maximum take-off weight of 650 kilograms and a maximum flight height of 1 kilometer. 
As of this February, the innovation center has signed contracts for 219 technologies to commercialize and has incubated six high-tech startups.
As for the innovation zone, a total of 220 cooperation between industry and research was achieved last year, and three tech startups received funds from angel investors in the first half of this year alone.
Fund of 500 million yuan for the lake-side innovation hub
An increasingly optimized innovation ecosystem is taking shape by the Mingyue Lake. 
At the recently held Mingyue Lake·π Global Innovation Conference, a fund totaling 500 million yuan was launched to finance the lake-side innovation hub. 
The fund will focus on cutting-edge technologies futuristic and emerging industries. It will mainly finance small-scale projects and teams specializing in intelligent-connected NEV, intelligent manufacturing, software information, new materials, aerospace, artificial intelligence, and other sectors.
Coupled with the fund, a talent list for six industries was released on the same day, including general AI, web 3.0, ambient intelligence that blends software and hardware, satellite internet, fin-tech, and new forms and models.
The conference is regional for the tech hub to start digital innovation. Five measures will support the Liangjiang Collaborative Innovation Zone to build an innovation hub with global influence led by next-generation internet. The five measures include enterprise development, enterprise financing, talent attraction, R&D innovation, and an international environment, according to a document recently released by Liangjiang New Area.
For instance, incentives such as contribution-based rewards and housing subsidies will be carried out to attract global talent, and a highly desirable living environment will be built featuring talent flats, dynamic commercial space, and other community facilities.
(The article is contributed by Guo Shuyu from Liangjiang New Area Media Center)
link