Chongqing Inks 11 Contracts with Singapore in Talent Development, Innovation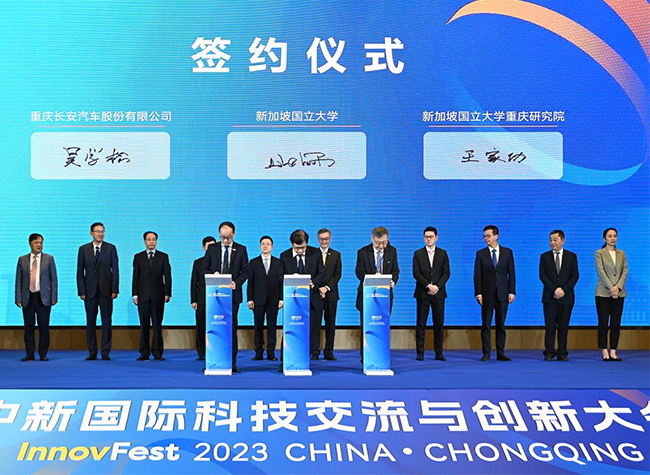 Chongqing – Eleven projects were signed at the InnovFest 2023 Chongqing on October 12, marking a deepened cooperation between Chongqing and Singapore in talent development and Industry-University-Research (IUR) innovation.
InnovFest is a tech innovation conference organized by the entrepreneurial arm of the National University of Singapore (NUS) since 2016. The event gathers market entities, institutes of higher learning, and government agencies to converge ideas, markets, and talent.
Themed "China-Singapore Cooperation and Industrial Upgrade and Innovation," the 2023 session highlights multiple sectors such as auto manufacturing, advanced materials, and information technology. The event was joined by over 400 prominent scholars, experts, and entrepreneurs for keynote speeches, seminars, achievement presentations, and project matchmaking.
The National University of Singapore (NUS), Changan Auto, and NUS (Chongqing) Research Institute signed to establish a new technology laboratory jointly. The three sides will focus on technological innovation and carry out in-depth cooperation in artificial intelligence technology, the integration of smart cars and the ICT industry, and new energy batteries.
Universities and research institutes have natural advantages in the innovation chain, which integrates with the industry and talent chains. The laboratory will help enterprises with difficulties they encounter during the process of engineering and mass production and thus facilitate IUR integral development, according to Wu Xuesong, deputy general manager of a research arm of Changan Auto.
The signing ceremony also witnessed NUS (Chongqing) Research Institute inking a contract with Chongqing University to cooperate on talent development and signing nine industry-research strategic contracts with enterprises in Chongqing.
NUS (Chongqing) Research Institute, located in Liangjiang New Area, is the only physical presence of NUS in West China. The institute has established four innovation centers of advanced manufacturing and materials, intelligent sensors and artificial intelligence, modern logistics, and finance and financial management.
As a core carrier of The China-Singapore (Chongqing) Demonstration Initiative on Strategic Connectivity, Liangjiang New Area has seen positive outcomes in terms of channels, platforms, and projects, with finance, aviation, and logistics as the key sectors. As of this May, the new area has signed 45 China-Singapore cooperative projects with a total amount of 10.98 billion U.S. dollars, accounting for 18% and 43%, respectively, of the municipality as a whole.
The China-Singapore (Chongqing) multi-modal transport demonstration base, housed in the Guoyuan Port National Logistics Hub, is building itself into a multi-modal transportation hub and a distribution center with professional, smart, green, and international features. As of this June, the base has handled 1,100 Twenty-foot Equivalent Units (TEUs) with a total value of 1.67 billion yuan (228.3 million U.S. dollars).
With the increasingly widened channels of overseas fund-raising, the new area has completed 40 financing projects totaling 2.5 billion U.S. dollars. Sasseur REIT is the first REIT in mid-west China listed on the Mainboard of the Singapore Exchange (SGX) in 2018 and has raised 4.27 billion yuan.
(Original Author: Guo Shuyu from Liangjiang New Area Media Center)
link