Area Students Learn Valuable Skills at JAG Leadership Development Conference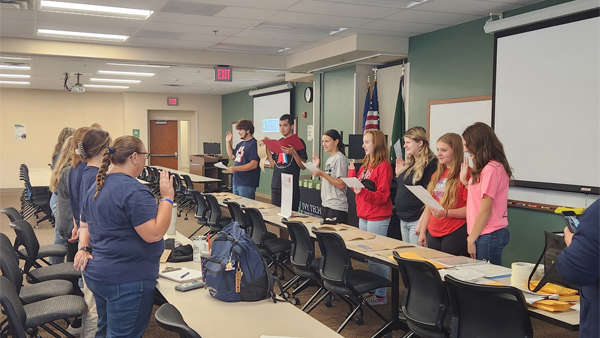 Seventy students from several area schools participated last Friday at Ivy Tech in Lawrenceburg.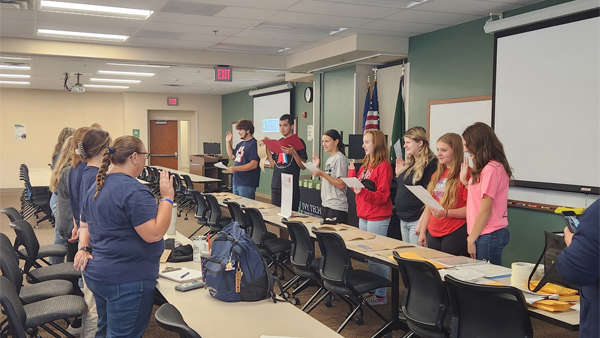 Photo by Travis Thayer, Eagle Country 99.3.
(Lawrenceburg, Ind.) – Seventy students from several area high schools were in Lawrenceburg last Friday to continue developing leadership skills through their JAG programs. 
The JAG Leadership Development Conference was held at Ivy Tech Community College's Riverfront Campus. 
At the event, JAG students from Brownstown Central, Franklin County, Jac-Cen-Del, Jennings County, Lawrenceburg, Milan, Madison, Seymour, South Dearborn, and South Ripley participated in break-out sessions, in addition to receiving an informational tour of the Ivy Tech campus. 
In the breakout sessions, students participated in a newlyweds-type game and a paper airplane flying contest. 
The newlyweds game paired students together to try and guess what their likes are. For example, students were asked to answer if their partner "flosses their teeth everyday" or "do they prefer karaoke or a bon fire." 
South Ripley High School junior Angelina Tunny told Eagle Country 99.3 she learned a valuable lesson while playing the game.  
"It was very fun but we were supposed to basically judge a book by its cover and I learned I was pretty much wrong the whole time. So, I should try to put myself in other people's shoes instead of judging them off their looks," said Tunny.
Tunny spoke highly of her JAG experience, saying the program has helped her determine she wants to go into the military before pursuing college. 
"It's awesome," added Tunny. "I've gotten out of my shell a lot more and I'm definitely more of a leader and more confident and I have a lot more friends now and it's just a lot of fun." 
Smiles were abound during the paper airplane game. The rules stated that each plane made cost five points, while planes that traveled the required distance would earn 10 points. Some groups focused on quality, while other groups made as many planes as possible to give themselves more attempts to score points. 
Students in the first paper airplane session said they learned that more skills lead to more opportunities, quality over quantity, adapt and be flexible, know your skill set, and communication. The game also demonstrated learning through failure, and applying what was learned to do better the next time. 
Andre Howard, a senior at Madison High School, said "JAG is like a home. I walked in their last year, and I've been a part of many clubs but I've never felt as safe as I have in the JAG room that I have grown to be a family with." 
Howard plans to use the skills he's built through the JAG program to further his education at Ball State University. He plans to pursue a degree in Education while continuing as a cheerleader.  
Bryce Miller, a fellow senior at Madison, said the JAG program and events like the Leadership Development Conference have helped him develop career, college, and interview skills. 
He plans to pursue a degree in Finance, but is undecided on what college or university he wants to attend.  
JAG Indiana, which is administered by the Indiana Department of Workforce Development, is a state-based, national non-profit organization dedicated to helping high school students of promise who have experienced challenges achieve success through graduation. JAG students receive adult mentoring while in school and one year of follow-up counseling after graduation. 
To learn more about JAG, visit 

link